A la búsqueda de la libertad. La pedagogía universitaria de nuestro tiempo
Palabras clave:
Epistemologías docentes, Libertad, Modernización, Pedagogía, Universidad
Resumen
El   texto   presentado   se   centra   en   la pedagogía   universitaria   en   tanto   que dimensión  central  de  una  reflexión más   amplia   sobre   las   epistemologías docentes.  Se  presenta  una  propuesta  de análisis general sobre los cambios en las universidades cuestionando la pedagogía y  su  incapacidad  para  acomodarse  a  las transformaciones recientes de la sociedad y  de  la  propia    universidad.  Se  apuntan las tendencias que tienden a dominar las "ideologías  de  la  modernización"  de  las universidades, remarcando los obstáculos que tales ideologías contienen de cara al desarrollo  profesional  de  los  profesores. Se defiende una propuesta de renovación pedagógica  –el  ARCO  de  la  Pedagogía universitaria–  centrada  en  cuatro  ideas clave: Autonomía, Reflexión, Creación y Obligación. Concluye el texto, insistiendo en la necesidad de poner a los profesores y  la  Pedagogía  en  el  centro  del  debate, subrayando la importancia de la libertad académica en el ejercicio de la profesión docente.
Descargas
Los datos de descargas todavía no están disponibles.
Citas
Altbach, Ph. (2009). "It's the faculty, stupid!", Times Higher Education, 30 de Abril de 2009.
Appadurai, A. (2008). "The risks of dialogue", Quaderns de la Mediterrània, vol. 10, pp. 23-27.
Buarque, C. (2014). A universidade na encruzilhada. São Paulo: Editora Unesp.
Derrida, J. (2001).L'université sans condition. Paris: Galilée.
Dewey, J. (1929). The sources of a science of education. New York: Horace Liveright.
Epstein, M. (2012). The transformative humanities: A manifesto. New York: Bloomsbury.
Faust, D. (2007). Installation address: Unleashing our most ambitious imaginings. Consultar em http://www.harvard.edu/president/speech/2007/installation-address-unleashing-our-most-ambitious-imaginings.
Figueiredo, A. Dias de (2012). MOOCs – Virtudes e Limitações.Consultar em http://moocead.blogspot.pt/2012/10/moocs-virtudes-e-limitacoes.html
Freidson, E. (1986). "Les professions artistiques comme défi à l'analyse sociologique", Revue Française de Sociologie, vol. 27, n.° 3, pp. 431-443.
Kosslyn, S. (2014). "A universidade do futuro", Revista Veja, n.º 2637, 02 de Abril de 2014.
Lima, L. (2012). "Trabalho e educação no século XXI – Experiências internacionais" (C. Lucena & J.R. Silva Júnior, orgs.). São Paulo: Xamã Editora, pp. 129-158.
Niza, S. (2012). "O modelo curricular de educação pré-escolar da Escola Moderna Portuguesa", in Sérgio Niza - Escritos sobre educação (A. Nóvoa, F. Marcelino & J. Ramos do Ó, orgs.). Lisboa: Tinta-da-China, pp. 190-210.
Nóvoa, A. (2009). Professores: Imagens do futuro presente. Educa: Lisboa.
Nóvoa, A. (2014). "Universidade", in Portugal Social de A a Z (J. L. Cardoso, P. Magalhães & J. M. Pais, orgs.). Lisboa: Expresso/ICS – Universidade de Lisboa, pp. 260-268.
Serres, M. (2012). Petite Poucette.Paris: Éditions Le Pommier.
Shulman, L. S. (1987). "Knowledge and teaching: Foundations of the new reform", HarvardEducational Review, vol. 57, n.º 1, pp. 1-22.
Siemens, G. (2006). Knowing Knowledge. Consultar em http://www.elearnspace.org/KnowingKnowledge_LowRes.pdf.
Silva, V. G. & Amante, L. (2015). "Objetos da Escola? Quando novos personagens entram em cena", in Arquivos analíticos de políticas educativas, vol. 23, n.º 54.
Soares, S. R. (2009). "Pedagogia Universitária: Campo de prática, formação e pesquisa na contemporaneidade", in Educação e Contemporaneidade (A. D. Nascimento & T.M. Hetkowsky, orgs.). Salvador: EDUFBA, pp. 91-108).
Teixeira, A. (1962). "Notas para a história da educação", Revista Brasileira de Estudos Pedagógicos, vol. 37, n.º 85, pp. 181-188.
The Slow Science Manifesto (2010). Consultar em http://slow-science.org/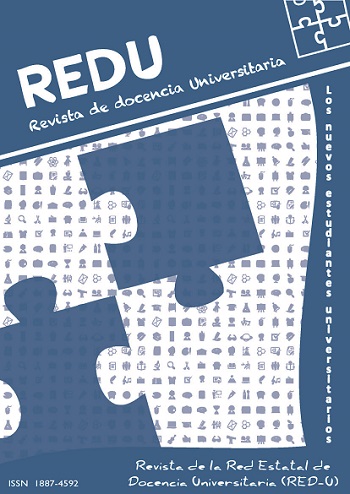 Descargas
Licencia
Esta revista se publica bajo una licencia Creative Commons Reconocimiento-NoComercial-SinObraDerivada 4.0 Internacional