La literatura científica sobre rankings universitarios: una revisión sistemática
Palabras clave:
calidad de la educación, universidad, evaluación, investigación, ciencias sociales y humana
Resumen
Presentamos una revisión sistemática de la literatura científica sobre rankings universitarios. En concreto, hemos indagado sobre la existencia de tendencias  en los métodos utilizados en los estudios publicados en artículos de revistas especializadas.
La muestra de artículos seleccionados de acuerdo a los criterios de búsqueda planteados ha sido de 28 artículos. Las fuentes de datos provienen de las bases de datos ISI y SCOPUS on-line utilizando las palabras clave "rankings", "higher education" y "universidad" en ciencias sociales y humanidades en el período 2000 a 2012.
Los resultados de la revisión sistemática nos muestran  que los artículos publicados  tienen una orientación más cuantitativa (N=22) que cualitativa (N=6), con enfoques más generalistas (N=21) que específicos (N=7), con pretensión generalizadora (N=24) frente  (N=4) a los de alcance local y que la mayor concentración de las referencias que incluyen los artículos analizados han estado publicados entre los años 2005-2010.
Se concluye que existe un creciente interés y preocupación por los estudios, investigaciones y publicaciones  de artículos sobre rankings universitarios.
Descargas
Los datos de descargas todavía no están disponibles.
Citas
Altbach, P. G. (2006). The dilemmas of ranking, International Higher Education, 42, Winter. Recuperado de: http://ostaustria.org/bridges-magazine/volume-12-december-14-2006/item/1669-the-dilemmas-of-ranking
Abdul Malek Bin A. Tambi, A.M.B.A; Maznah Che Ghazali, M.C. & Yahya, N. B. (2008). The ranking of higher education institutions: A deduction or delusion? Total Quality Management & Business Excellence, 19 (10), 997-1011. http://dx.doi.org/10.1080/14783360802264046
AAVV (2006). Berlin Principles on Ranking of Higher Education Institutions. Recuperado de: http://www.che.de/downloads/Berlin_Principles_IREG_534.pdf
Billaut, C. D., Bouysso, D. & Vincke, P. (2009). Should you believe in the Shanghai ranking? An MCDM view. HAL Articles on line. Recuperado de: https://akkrt.metapress.com/content/06140311317202u1/resource-secured/?target=fulltext.pdf&sid=rnz3ddqoeps4j1ctz2tzjwlz&sh=www.akademiai.com
Bookstein, F. L., Seidler, H., Fieder, M., & Winckler, G. (2010). Too much noise in the Times Higher Education rankings, Scientometrics, 85, 295–299. http://dx.doi.org/10.1007/s11192-010-0189-5
Booth, A. (2001). Cochrane or cock-eyed? How should we conduct systematic reviews of qualitative research?. Paper presented at the Qualitative Evidence-based Practice Conference "Taking a Critical Stance", University of Coventry, 14-16 May.
Boulton, G. (2011). University rankings: Diversity, excellence and the European Initiative, Procedia Social and Behavioral Sciences, 13, 74–82. http://dx.doi.org/10.1016/j.sbspro.2011.03.006
Buela-Casal, G., Bermúdez, M.P., Sierra J.C., Quevedo-Blasco, R., Castro, A., & Guillén-Riquelme, A. (2012). Ranking de 2011 en producción y productividad en investigación de las universidades públicas españolas. Psichotema 24, 505-515.
Carey, K. (2006). Collage rankings reformed: the case for a new order in Higher Education. Education Sector Reports, 19. Recuperado de: http://www.educationsector.org/usr_doc/CollegeRankingsReformed.pdf
De Miguel, J. M., Vaquera, E. & Sánchez, J. D.(2005). Spanish Universities and the Ranking 2005 Initiative, Higher Education in Europe, 30 (2), 199-215 http://dx.doi.org/10.1080/03797720500260256
Dill, D. & Soo, M. (2005). Academic quality, league tables, and public policy: A Cross-national analysis of university ranking systems. Higher Education, 49(4), 495-534. http://dx.doi.org/10.1007/s10734-004-1746-8
Docampo, D. (2008). Rankings internacionales y calidad de los sistemas universitarios. Revista de Educación, número extraordinario, 149- 176.
Evans, J. & Benefield, P. (2001). Systematic reviews of educational research: does the medical model fit? British Educational Research Journal, 27(5), 527–41. http://dx.doi.org/10.1080/01411920120095717
Guarino, C., Ridgeway, G., Chun, M. & Buddin, R. (2005). Latent variable analysis: A new approach to university ranking, Higher Education in Europe, 30 (2), 147-165. http://dx.doi.org/10.1080/03797720500260033
Hazelkorn, E. (2009). Theimpact of global rankings on higher education research and the production of knowledge. UNESCO Forum on Higher Education, Research and Knowledge Occasional Paper N°16.
Hazelkorn, E., (2009). Rankings and the battle for world-class excellence: institutional strategies and policy choices, Higher Education Management and Policy, 21, 1-22. http://dx.doi.org/10.1787/hemp-v21-art4-en
Hemsley-Brown, J. V. & Sharp, C. (2004). The use of research to improve professional practice: a systematic review of the literature, Oxford Review of Education, 40. Recuperado de: http://epubs.surrey.ac.uk/479/
Harvey, L. (2008). Ranking of higher education institutions: A critical review!. Quality in Higher Education, 14(3), 187-207. http://dx.doi.org/10.1080/13538320802507711
Hunt, M. (1997). How science takes stock: The story of meta-analysis. Nueva York: Russell Sage Foundation.
Krüger, K. & Molas, A. (2010). Rankings mundiales de universidades: objetivos y calidad. Ar@cne. Revista Eléctronica de Recursos en Internet sobre Geografía y Ciencias Sociales. Recuperado de: http://www.ub.es/geocrit/aracne/aracne-129.htm
Sánchez-Meca, J. (2010). Cómo realizar una revisión sistemática y un meta-análisis. Aula Abierta, 38, (2), 53-64.
Liu, N. C. & Cheng, Y. (2005). The academic ranking of world universities, Higher Education in Europe, 30 (2), 127-136.
López, A. M. & Pérez-Esparrells, C. (2007) Los rankings universitarios: estado de la cuestión y posibles aplicaciones al caso español. Investigaciones de Economía de la Educación, 2, 109-119.
Flórez-Parra, J. M., López Pérez, M. V., López Hernández, A. M. (2014). El gobierno corporativo en el ámbito de las universidades: Una aproximación a través de las 100 primeras Universidades del ranking de Shanghái. Revista de Educación, 364, 14, en prensa, DOI: 10.4438/1988-592X-RE-2014-364-259.
Merisotis, J. & Sadlak, J. (2005). Higher education rankings: Evolution, acceptance and dialogue, Higher Education in Europe, 30 (2), 97-101. http://dx.doi.org/10.1080/03797720500260124
Pérez-Esparrells, C. & López, A. M. (2009). Estado de la cuestión de los rankings universitarios nacionales e internacionales. Documento UNIVNOVA, DU04, marzo.
Pérez-Esparrells, C. & Salinas, J. (1998). El uso de los indicadores de gestión en la evaluación de la calidad universitaria. Hacienda Pública Española, Monográfico Educación y Economía, 157-167
Sheldon, T. & Chalmers, I. (1994). The UK Cochrane Centre and the NHS Centre for Reviews and Dissemination: respective roles within the Information Systems Strategy of the NHS R&D Programme, coordination and principles underlying collaboration, Health Economics, 3, 201–203. http://dx.doi.org/10.1002/hec.4730030308
Thakur, M. (2007). The impact of ranking systems on Higher Education and its stakeholders. Journal of Institutional Research, 13(1), 83-96.
Tranfield, D., Denyer. D. & Smart, P. (2003). Towards a methodology for developing evidence-based management by means of systematic review, British Journal of Management, 14, 207-222. http://dx.doi.org/10.1111/1467-8551.00375
Usher, A., & Savino, M. (2007). A Global Survey of University Ranking and League Tables. Higher Education in Europe, 32(1), 5-15. http://dx.doi.org/10.1080/03797720701618831
Van Dyke, N. (2005). Twenty Years of University Report Cards, Higher Education in Europe, 30(2), 103-125. http://dx.doi.org/10.1080/03797720500260173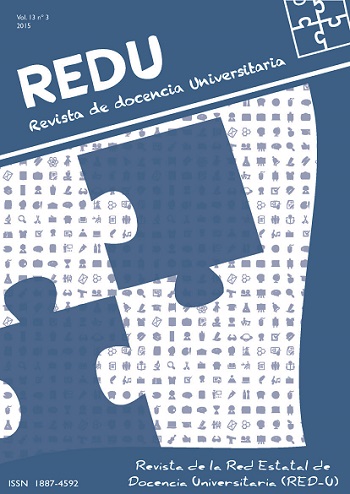 Descargas
Licencia
Esta revista se publica bajo una licencia Creative Commons Reconocimiento-NoComercial-SinObraDerivada 4.0 Internacional